Your Assessor
---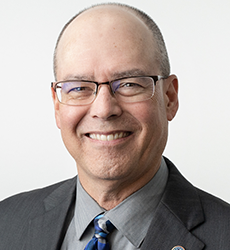 Professional Career
Eddie Cook brings a wealth of technological, leadership, and public service experience to the Maricopa County Assessor's Office. He was appointed in February 2020 and then elected in November 2020. His vision has been to create a "One Team" culture that provides the public with a high-performance team that is both efficient and effective at the lowest cost to the taxpayer.
Eddie has made it his mission to ensure that fairness, equity, and respect are present in every aspect of our business to secure best-in-class service. He accomplishes this by continuing to innovate and anticipate the community's changing needs and embracing the latest technology while creating a workplace that inspires and empowers our team to perform at the highest level. In 2023, under Eddie's leadership, the Assessor's Office was named one of Arizona's Top Workplaces.
A respected member of the Gilbert Town Council from 2011-2020, Eddie helped successfully lead the fast-growing community and introduced initiatives and programs that have become a model for municipalities across the state. Among his public service accomplishments are creating the Town of Gilbert ENDVR (Ending Domestic Violence Responsibility) program and serving as the president of the Arizona Municipal Water Users Association and chairman of the Maricopa Association of Government Domestic Violence Council. In 2023, Eddie was selected to be one of the Flinn-Brown Fellows with the Arizona Center for Civic Leadership.
Outside of the public sector, Eddie has spent more than 30 years in the high-technology industry and holds a bachelor's degree in Engineering from Arizona State University. This includes about 20 years in a leadership position at a technology company that provides cloud-based data services to Fortune 100 companies. He has also served on various boards and commissions, including the Arizona State Information Technology Authorization Committee, which reviews some of the state's largest IT projects, Full Circle Program, which provides an enthusiastic recovery approach for teens/young adults at risk with addiction, and the CeCe Hope Center, which provides the needed assistance for young women rescued from human trafficking.
Born in Okinawa, Japan, Eddie is married to Jenny, his high school sweetheart. They have five children and four grandchildren. In his free time, he volunteers for several charitable organizations, is a certified glider pilot, and enjoys scuba diving, astrophotography, and exploring Arizona in his Jeep.
Historic List of Elected Maricopa County Assessors
| Date Elected | Name |
| --- | --- |
| 2020 | Eddie Cook |
| 2014 | Paul D. Petersen |
| 2004 | Keith E. Russell |
| 1996 | Kevin Ross |
| 1992 | Pete Corpstein |
| 1988 | Ira Friedman |
| 1980 | Milt Novkov |
| 1968 | Kenneth R. Kunes |
| 1950 | C. L. Sparks |
| 1946 | William Stanford |
| 1942 | J. T. Bowles |
| 1934 | J. D. Brush |
| 1924 | Ed Oglesby |
| 1922 | George Cummins |
| 1920 | Harre Pierce |
| 1918 | George Cummins |
| 1912 | J. T. Bone |
| 1908 | Frank Luke |
| 1900 | C. W. Burnette |
| 1898 | L. W. Coggins |
| 1894 | Harry St. Claire |
| 1890 | H. C. Orme |
| 1888 | James K. Murphy |